Places to See
Aside from the spectacular beauty of our area and the down-home hospitality of the residents, Bear River and the surrounding area have many points of interest.
Visitors can spend the day at the Upper Clements Park located just 10 kms from Bear River. There they can ride the flume ride or the rollercoaster or take in musical entertainment or sites of traditional splendour from a bygone day.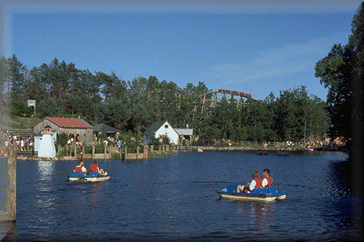 Further on, you may visit Annapolis Royal, the birthplace of Canada which was founded in 1605. While there, visitors can visit Fort Anne or the Habitation which are sites of historic significance to our area. The Historic Gardens are also worthy of a visit as they are groomed to flowery magnificence.
The Tidal Power Plant on the Annapolis Royal Causeway is one of only a handful of such plants in the world which actually harnesses the force of the tide to provide a natural alternative power to fossil fuels.
Back in Bear River, visitors can check out the Bear River Aquatic Waste Treatment Center (not as bad as it sounds)which is
---
actually one of the newer natural technologies to break down sewage through a process of filtering and greenhouse activity to harmless by products.

The Bear River Visitor Center is located in the dutch windmill on the waterfront next to the Aquatic Waste Treatment Center. There visitors can check out videos on the Bear River area as well as an incredible photo display and the best information in where to go and stay in the Bear River area.