|Main Page| Opinion| |Features| |Health| |Weird| |Bitch Page| |News|
Howard Stern Tells Hilliary Clinton. Sure I'll Do ya!


---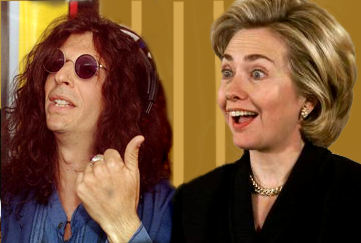 Hillary Clinton was back in New York City to complete her talk show campaigning. Seeking to appeal to a broader array of New York voters, Ms. Clinton agreed to do the Howard Stern show. Delayed so Howard could be seen by his cardiologist the interview was completed on Sunday and is slated to air tonight.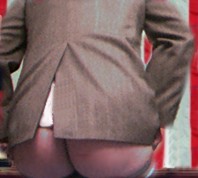 Ms Clinton was good-natured as Howard covered his standard ground. As expected Ms. Clinton denied ever having sex with animals, Stephanopolis or Ms. Lewinski. The shocker of the evening was the revelation that she had a small "General H" tattoo on her left buttocks. Despite repeated pleas from Stern to "show us your ass" Ms Clinton said she would save it for the campaign trail.
---
To Top
|Main Page| Opinion| |Features| |Health| |Weird| |Bitch Page| |News|